ITA-45
Luna Rossa
You never forget the first love... and ITA-45 was it for me :-) It will always remain a hull full of charm, prestige, and pure beauty!
As you know, to adapt a model to IACC120 Regulation, you have to modify a little the hull's volumes. In ITA-45 case I follow this philosophy: thanks to a photos taken to the true ITA-45 (when it was exhibited in Rome, at Piazza del Popolo), I have perfectly copy the side view. In this way I'm sure to have a model extremely close to the original! But to get extremely close to the original waterline... I should have a displacement of about 3750gr (too light for racing). The IACC120 regulation requires a minimum displacement if 4500gr and with this displacement the draft reaches 52.5 mm and the LOA becomes 977mm (excellent values for optimal performance)! So I think so: to create a model with a douple configuration:
1) If you want to take part of IACC120 regattas, you install the bulb 2850gr: in this way the project is designed and focused for the race trim, so you have peak performance.
2) If you are a purist of forms and volumes ... then bring the displacement at 4000gr (for example installing a bulb of 2350gr, like IOM). With the displacement the model will have a water line very close to the original.
I suggest painting the hull along the 4000gr waterline version, in this way the model, out of the water, will be very close to the original, regardless of the used bulbd.


---
Top - Side View: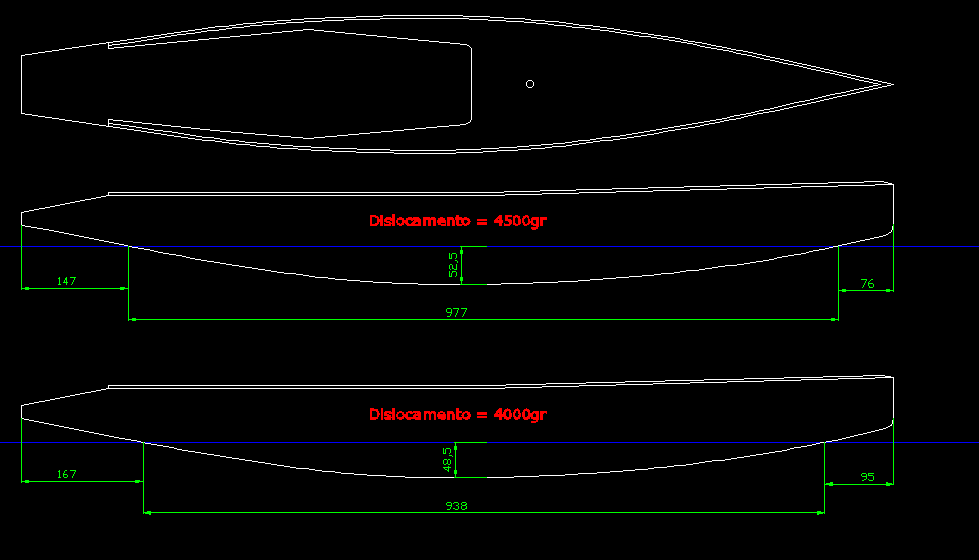 ---
Bow - Stern View: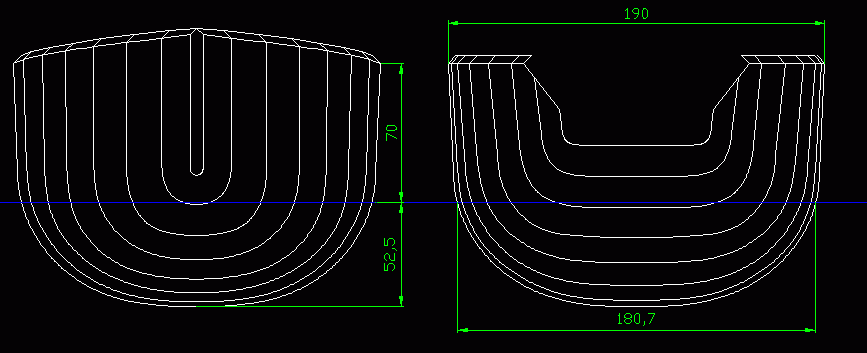 ---
Sail Plane: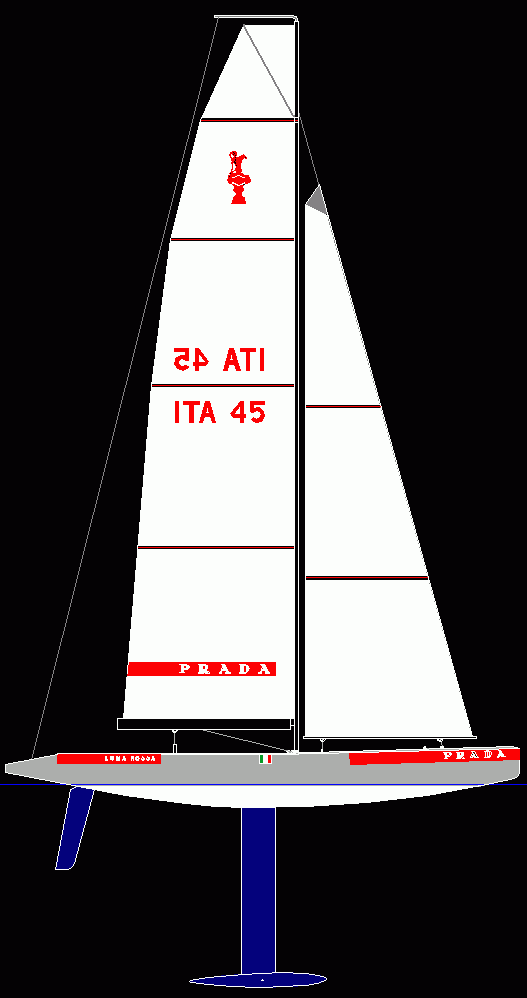 ---
Technical Specifications:
| | | |
| --- | --- | --- |
| | ITA-45 | ITA-45 |
| Displacement: | 4500 gr | 4000 gr |
| Lenght Over All: | 1200 mm | 1200 gr |
| Lenght Bow: | 76 mm | 95 mm |
| Lenght Water Line | 977 mm | 938 mm |
| Lenght Stern : | 147 mm | 167 mm |
| Beam: | 190 mm | 190 mm |
| Waler Line Beam: | 180,7 mm | |
| Hull Draft: | 52,5 mm | 48,5 mm |
| Total Draft: | 472,5 mm | |
| Lenght Fin: | 390 mm | |
| Lenght Rudder: | 20 mm | |
| Bulb weight: | 2850 gr | 2350 gr |
| Wetted Hull Area: | 16,2 dmq | |
| Water Plane Area: | 13,21 dmq | |
| Mast Height | 1710 mm | 1710 mm |
| Sail Area: | 77,32 dmq | |
| Main Sail Area | 50,17 dmq | |
| Jib Area: | 27,15 dmq | |
---
Download Project:
The project is finish at 100% :-)